Everyone knows how to drag & drop. In DocuWare you can also enjoy plenty of drag & drop as you move documents from here to there to store them or move them from one document tray to another. But did you know what else this convenient slide can be used for? Here are 15 examples...


Drag & drop is an intuitive way to work with your mouse or finger on touch-sensitive devices. DocuWare makes it easy to work with drag & drop in the following areas:
Drag & Drop in Document Trays
- To import files, drag them from the desktop or from the file system into a document tray
- For moving documents from one document tray to another:
- Hold down the Ctrl key to copy documents from one document tray to another
Drag & Drop from a Document Tray to a File Cabinet
- Drag a document onto a store dialog to open it and store the document
- Drag a document from the document tray to an entry in a list to attach the document to one that's already archived: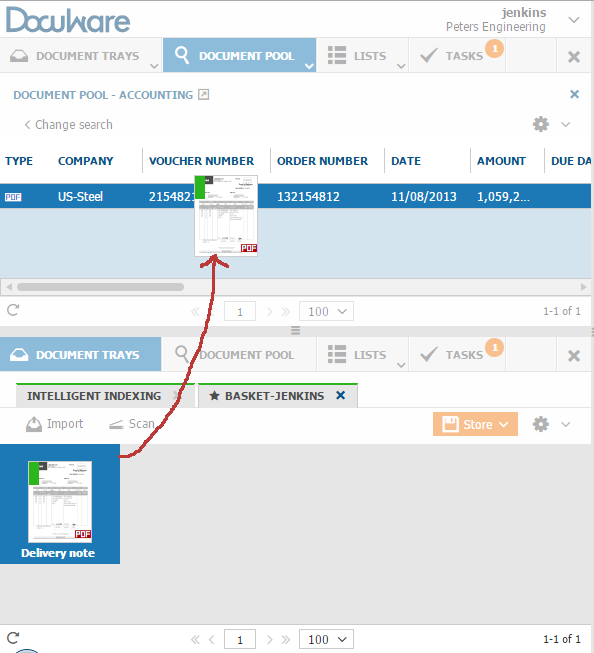 - Similarly, you can drag a document from a document tray onto one that's shown in a results list to store it with the same or similar indexing information. This opens the pre-filled store dialog along with the index entries of the document that was already stored. If necessary, you can then modify individual index terms.
Drag & Drop with Folders
- Drag files from the desktop or file system to a folder to store these documents in DocuWare:
More about using folders for document storage
- If you use Chrome as a browser, you can even drag entire file folders from the desktop or from the file system into a DocuWare folder and store all the documents they contain in one stroke
Drag & Drop with Workflows
- Drag a document from a document tray to a workflow task in order to include the document in the workflow
Drag & Drop with Forms
- Drag a file from the desktop or from the file system into the attachments field in order to attach the document to the form
Drag & Drop in Windows Explorer Client
- Drag files from the desktop or file system to a Windows Explorer client folder to store the corresponding documents using the folder names as index terms
- Likewise, drag entire file folders from the desktop or file system into the Windows Explorer client'stree structure
- Move or copy (press the Ctrl key) documents or entire folders within Windows Explorer client
- To copy a document from DocuWare Windows Explorer client to a Windows folder, simply drag the document into the Windows folder
- To attach a document from the Windows Explorer client to an email, drag it onto the desired email